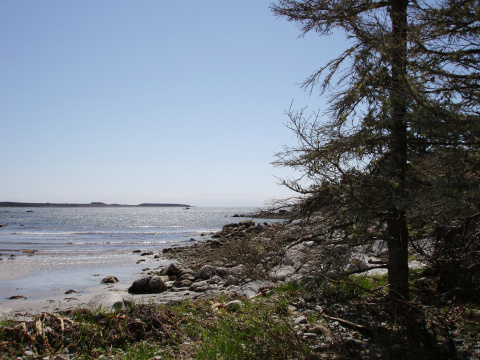 2023 Operating Season: May 19 to October 9, 2023
529 Raddall Park Road, Port Joli, NS B0T 1S0
Telephone: (902) 683-2664
Facilities and Services:
Accessible Features
Park office
Restroom with shower
Campsites
68 Unserviced Campsites

Wooded sites with parking, campfire ring/grill and picnic table.
Accessible campsites (2 & 4)

13 Walk-In Campsites

Coastal Loop - tenting area overlooks a "Freshwater Fen" close to the camper 
beach (150m) accessed by a multi-use trail.
Woodland Site - tenting area offers a more secluded feeling, situated further 
inland on the coastal lowland area.

Group Campsite

Contact Natural Resources and Renewables office in Milton
Restroom with Shower
Washroom facility with mens and womens washrooms with toilets and showers.
Gravel parking is at a distance from the building, no adjacent passenger drop off spot.  
Gravel path to the building is across the road from the parking area with a 6% slope.  
Well lit, sheltered entry with level landings and a clear door width of 34".  
Accessible stall has a clear door width of 31" and grab bars by the toilet.  Sink and 
counter have knee clearance (640mm).  Sinks have single push button water control.  
Roll-in shower with non-slip floors, grab bars, portable shower seat and fixed showerhead.    
Vault Toilet (Outhouse)
Frequency of cleaning will be indicated with signage.
Vault toilets (outhouses) are available throughout the park.
Drinking Water
Water taps are available throughout the campground
Dishwashing Station
Dishwashing station located at the Comfort Station
Trailer Dump
 
Dump station available 
Park Office
Gravel parking area across the loop from the building, passenger drop off area 
next to building.  Long, 1.5m wide, wooden boardwalk connects parking area to 
building.  Boardwalk has handrails or edge protection along the entire length.  
Entrance is well lit with a level landing.  Partially bevelled threshold of 40mm 
with a 20mm vertical step.  High counter with no knee clearance.  Some seating 
at the building entrance.  
Firewood/Ice
Firewood and ice can be purchased at the Park Office.
Times posted at the park.
Program Area
Centrally located space for outdoor activities or programs
Group Use Shelter
Enclosed building for shelter on rainy days or for activities and programs.
Waste/Recycling
Waste sorting and recycling containers located throughout the park.
Please do not dispose of propane cylinders or coals in the garbage containers.
Day Use/Picnic Area
Parking, change house, beach access, unsupervised swimming, picnic tables, 
vault toilet and trail access.
Available for non-campers use

Beach Access

White sand and rocky beaches.  Saltwater on Port Joli Harbour
Help protect the dune system and piping plover nesting areas 
by walking close to the water or on the established trails.

Paddling (Canoe/Kayak)
Saltwater on Port Joli Harbour
Swimming Unsupervised
Unsupervised swimming at the beaches
Change House
In the day use area
Hiking Trail

Birding opportunities on:
Semi Barren Trail 0.8km
Coastal Hardwood Ridge Trail 1.5km
Scotch Point Trail 0.5km

Multi Use Trail
Hike or bicycle
Playground
Outdoor surfaces such as playgrounds are not cleaned.
Centrally located.
For information about nearby attractions, please visit Tourism Nova Scotia