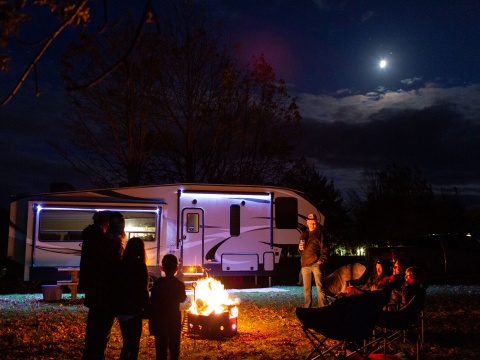 Celebrating 55 years of operation in 2022!
Open May 27 to October 17, 2022
439 Brickyard Road, Albert Bridge, NS  B1K 2R9
Telephone: (902) 563-3373
Facilities and Services:
Please review the COVID-19 Restrictions and the park rules and regulations prior to making a reservation. 
An electronic entrance gate system is in place. Campers will be charged a $3.50 deposit for the card. This charge will be refunded upon the return of the card when their camping stay is over. Please stop at the park office when leaving to receive the $3.50 refund.
Accessible Features
Park office & Registration kiosk
Restrooms with shower
Beach access
81 Unserviced Campsites

Mixture of open (Open Field Loop A), partially wooded (Brickyard Point Loop D) 
and wooded sites (Peninsula Loop B) with parking, campfire ring/grill, and picnic table

59 Serviced Campsites

44 open sites and 15 partially wooded sites with two way hook up 
(30 amp electrical service and drinking water), parking, campfire ring/grill, picnic table

16 Walk-In Campsites

3 wooded walk-in sites in Loop B (Peninsula Loop)
12 partially wooded walk-in sites in Loop D (Brickyard Point)

Restroom with Shower

Loop A 
Washroom facility with mens and womens washrooms with toilets and showers.
Gravel parking area with a loose gravel path to the building(min width 1m) 20mm 
threshold to the landing.  Building entrance is level with a flat threshold and clear 
door width of 33".  
Stall doors have clear width of 30".  Sink controls are single push button, sinks and 
counter have knee clearance.  
Roll-in shower with non-slip floor, seat, and fixed showerhead. 

Loop D
Washroom facility with one universal accessible/family washroom with toilet and 
shower, plus mens and womens washrooms with toilets and showers.
Gravel parking area with passenger drop off spot.  Level, brick path to building 
(1.55m wide).  Building entrance is sheltered, well lit and has a level concrete pad.  
Universal washroom has clear door width of 34" with a level threshold.  Washroom 
has a 5' turning radius.  Toilet has tank for back support and grab bars.  Sink and counter 
have knee clearance.  Sink has push lever controls.  
Roll-in shower with no threshold, non-slip floor, and grab bar.  Fold down shower seat 
and hand held showerhead with push button water control.   

Restroom with Flush Toilet
Restroom with flush toilets in the day use area
Vault Toilet (Outhouse)
Vault toilets (outhouses) are available throughout the park.
Drinking Water
Water taps are available throughout the campground
Dishwashing Station
Dishwashing station located at the Comfort Station
Laundry
Not available in 2021
Laundry facilities at Loop D Comfort Station
Trailer Dump
 
Dump station available 
Park Office

Office open 9am to 9pm.

Parking spaces in the driveway and a parking lot just past the building.  Marked 
crosswalk leads to the building. Level concrete landings at the building entrance.  
Power operated door with a 33" clear width and level threshold.  Shelter and seating 
outside the entrance.  Standard height counter and a 830mm high counter.

Registration Kiosk
Self-registration from Sept 5th to end of season
Kiosk located next to the park office.  Sheltered structure on a level concrete pad.  
Well lit and phone is at accessible height.  The payment  drop slot (Iron Ranger) is 
accessed by a gravel path, slot height is 1.45m..
Firewood/Ice
Firewood and ice can be purchased at the Park Office.
Times posted at the park.
Program Area
Space for outdoor activities or programs with firepit
Group Use Shelter
Centrally located enclosed building for shelter on rainy days or for activities and programs.
Waste/Recycling
Waste sorting and recycling containers located throughout the park.
Please do not dispose of propane cylinders or coals in the garbage containers.
Wi-Fi

Available at the park office and surrounding area.

Day Use
Parking, restroom with flush toilets, beach access on the Mira River.
Available for non-campers to use

Beach Access

Freshwater on the iconic Mira River
Day use beach MacLellans West Bay with accessible beach mat (Mobi-mat®) 
Camper's beach MacLellans East Bay

Boat Launch
Public boat launch available when park is open
Please follow the on site parking instructions and remember that gates are locked 
when the park closes. 
Paddling (Canoe/Kayak)
Mira River
Swimming Unsupervised
Unsupervised swimming at the beaches
Hiking Trail

1.2km loop, rated easy    

Playground
Outdoor surfaces such as playgrounds are not cleaned.
Centrally located.
Look Off
MacLennans Look off near day use area/park entrance
For information about nearby attractions, please visit Tourism Nova Scotia