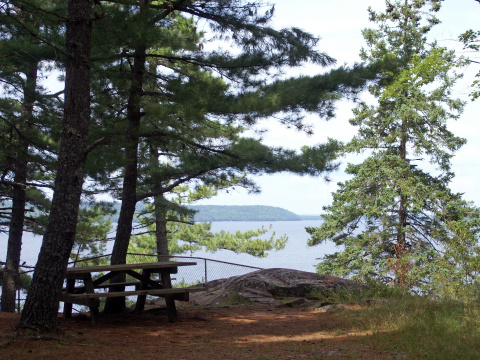 2023 Operating Season: June 2 to September 11, 2023
4949 Hwy 2, Grand Lake, NS B0N 1Z0
Natural Resources and Renewables Office Waverley 902 861 2560
Facilities and Services:
Entry to the campground requires a gate access code. If you arrive at the park without an access code, please call 1-888-544-3434. Be prepared to provide your reservation information to obtain the gate code.
Accessible Features
Registration kiosk
Restroom with shower
57 Unserviced Campsites

Wooded sites with parking, campfire ring/grill and picnic table

5 Walk-In Campsites
Wooded sites overlooking Grand Lake
Restroom with Shower
Washroom facility with one universal accessible/family washroom with toilet and shower, 
plus mens and womens washrooms with toilets and showers.
Parking is on the adjacent paved road.  Access to the building is by a low slope, brick 
walkway with a minimum clear width of 1.7m.  A level concrete landing provides access 
to the entrance doors.
A security code is required to enter the universal washroom.  The universal washroom 
has a toilet with tank for back support and a grab bar.  Sink has knee clearance.  
Shower stall has a hand held showerhead and a fold down seat.
Vault Toilet (Outhouse)
Vault toilets (outhouses) are available throughout the park,
Drinking Water
Water taps are available throughout the campground
Dishwashing Station
 
The dishwash station at Laurie Park is temporarily unavailable. We apologize for the inconvenience.  
Trailer Dump
 
Dump station available
Registration Kiosk
Kiosk located at the entry building.  Paved parking about 60m to the rear of the 
building.  Access to the kiosk is by a concrete sidewalk with a curb cut.  Kiosk is on a 
gravel pad sheltered by the building overhang. The payment drop slot (Iron Ranger) 
is next to the sidewalk, slot height is 1.8m. 
Firewood/Ice
Firewood and ice can be purchased at the Registration Kiosk. Cash only.
Times posted at the park.
Program Area
Space for outdoor activities or programs, located in the day use area
Waste/Recycling
Waste sorting and recycling containers located throughout the park.
Please do not dispose of propane cylinders or coals in the garbage containers.
Wi-Fi

Available at the Registration Kiosk and surrounding area.
 

Day Use/Picnic Area
Large day use/picnic area with parking, picnic tables, drinking water, change house, and 
beach access.
Available for visitors daily from 8 am - 8 pm. 

Beach Access

Freshwater on Grand Lake

Paddling (Canoe/Kayak)
Grand Lake
Swimming Unsupervised
Unsupervised swimming at the beach on Grand Lake 

Accessing Grand Lake is at your own risk. 

Change House
In the day use area
Fishing
Fishing is permitted with a Nova Scotia sport fishing licence.  
Please check fishing regulations. 
Visit the Department of Fisheries and Aquaculture website for more information
Hiking Trail
Wooded trail along Grand Lake
Look Off
On the walking trail and near the walk-in campsites.  View of Grand Lake.
For information about nearby attractions, please visit Tourism Nova Scotia