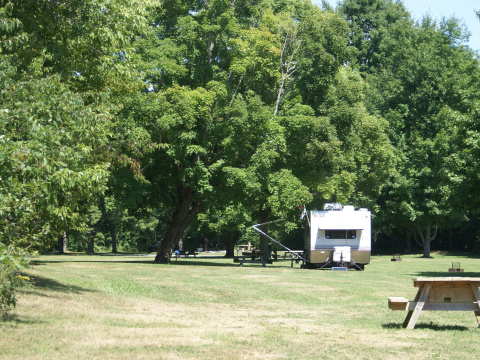 2023 Operating Season: June 2 to September 18, 2023
109 Clayton McKay Road, Hwy 14, Brooklyn, NS B0N 2A0
Natural Resources and Renewables Office Windsor 902 798 2016
​Facilities and Services:
Accessible Features
Registration Kiosk
Restroom with shower
Campsite
79 Unserviced Campsites

Mixture of open, wooded and partially wooded campsites.
Parking, campfire ring/grill and picnic table.
Accessible campsite 49

1 Walk-In Campsite

 

Group Campsite

Includes a large cooking shelter.
Contact the Natural Resources and Renewables office in Windsor

Restroom with Shower
Washroom facility with mens and womens washrooms with toilets and showers.
Gravel parking area and gravel path lead to the building.  There is a small threshold to the 
level concrete landing.  Entry doors have clear width of 33" and beveled thresholds.  
Stall doors have a clear width of 31".  Sinks and counter have knee clearance.  Sinks have  
single lever style water control.  
Roll-in shower stall with a non-slip floor, hand held showerhead with single lever style 
control.  Stall contains a seat for drying.     
Vault Toilet (Outhouse)
Vault toilets (outhouses) are available throughout the park.
Drinking Water
Water taps are available throughout the campground
Dishwashing Station
Dishwashing station located at the Comfort Station
Trailer Dump
Dump station
Registration Kiosk
Gravel parking area.  Access to the kiosk is by a gravel path.
Payment drop slot (Iron Ranger) is on a gravel surface, slot height is 1.4m.
Firewood/Ice
Firewood and ice can be purchased at the Registration Kiosk. Cash only.
Times posted at the park.
Cooking Shelter
At the group camping site
Program Area
Space for outdoor activities or programs
Group Use Shelter
Enclosed building for shelter on rainy days or for activities and programs.
Waste/Recycling
Waste sorting and recycling containers located throughout the park.
Please do not dispose of propane cylinders or coals in the garbage containers.
Wi-Fi

Limited Wi-Fi is available at the registration kiosk area

Day Use/Picnic Area
Parking, picnic tables, vault toilets, drinking water, change house, 
playground and unsupervised swimming.
Available for non-campers to use.
Swimming Unsupervised
Unsupervised swimming in the Meander River
Change House
In the day use area
Fishing
Fishing is permitted with a Nova Scotia sport fishing licence.  
Please check fishing regulations. 
Visit the Department of Fisheries and Aquaculture website for more information
Hiking Trail

1.5km trail rated easy    

Playground
Playground located in the day use picnic area.
Swing set located near the group use building.
For information about nearby attractions, please visit Tourism Nova Scotia