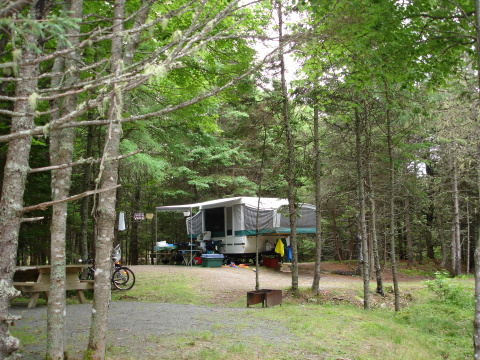 2023 Operating Season: May 19 to October 9, 2023
5366 Hwy 331, Crescent Beach, NS B4V 6P2
Telephone: (902) 688-2034
Facilities and Services:
Accessible Features
Park office
Restroom with shower
Flush toilets (day use)
Beach access
74 Unserviced Campsites

Partially wooded sites in North Rissers, a mixture of wooded and open sites in Little Rissers.
Parking, campfire ring/grill and picnic table.

Campsite 63 closed

19 Serviced Campsites

19 open sites (North Rissers) with two way hook up (30 amp electrical service and drinking water)
Parking, campfire ring/grill and picnic table

6 Walk-In Campsites

Walk-in sites located in North Rissers

Group Campsite

Contact the Natural Resources and Renewables office in Lunenburg
Restroom with Shower
North Rissers
Washroom facility with mens and womens washrooms with toilets and showers.
Small, level, gravel parking lot adjacent to the building.  Pull through loop in front of the 
building allows for passenger drop off.  Bench for seating at the main entrance.  Level 
landing and clear door width of 33".  
Accessible stall has grab bars.  Sinks and counter have knee clearance.  
Roll-in shower with a fold up seat, grab bar, and fixed showerhead.
Restroom with Flush Toilet
Located at the day use beach.
Vault Toilet (Outhouse)
Frequency of cleaning will be indicated with signage.
Vault toilets (outhouses) are available throughout the park.
Drinking Water
Water taps are available throughout the campground
Dishwashing Station
Dishwashing station located at the Comfort Station
Trailer Dump
 
Dump station available 
Park Office
Drive-up window available.  Very limited parking near the building.  Building is 
accessed by a 1.8m wide gravel path or a step up to a concrete landing.  Well lit, 
sheltered entrance with a level landing.  Entrance door has a clear width of 33" with 
a beveled threshold of 250mm entering and a straight lip of 50mm when exiting.  
Seating inside and counter has a small section with knee clearance.  
Firewood/Ice
Firewood and ice can be purchased at the Park Office.
Times posted at the park.
Program Area
Space for outdoor activities or programs
Waste/Recycling
Waste sorting and recycling containers located throughout the park.
Please do not dispose of propane cylinders or coals in the garbage containers.
Day Use/Picnic Area
Beach access, change house with shower, picnic tables overlooking the Atlantic Ocean.
Available for non-campers use

Beach Access

White sand beach on the Atlantic Ocean
Please protect the delicate dune system by using the boardwalks
Accessible beach mat (Mobi-mat®) 

Paddling (Canoe/Kayak)
Atlantic Ocean
Swimming Unsupervised
 
Swimming Supervised
Lifeguard service provided by NS Lifesaving Society July-August*
Change House
Change house with showers adjacent to beach
Fishing
Fishing is permitted with a Nova Scotia sport fishing licence.  Please check fishing regulations. 
Visit the Department of Fisheries and Aquaculture for more information
Hiking Trail

4 short trails (500m to 650m) rated easy    

Playground
Outdoor surfaces such as playgrounds are not cleaned.
Located in the North Rissers campground.
*Dates subject to change
For information about nearby attractions, please visit Tourism Nova Scotia