Victoria County Hiking Trails
Hiking and walking trails in Victoria County, Cape Breton
For people who enjoy exploring on foot, Victoria County provides opportunities to access some of Nova Scotia's highest elevations, deepest canyons, dramatic look-offs and coastal scenery.
Cape Smokey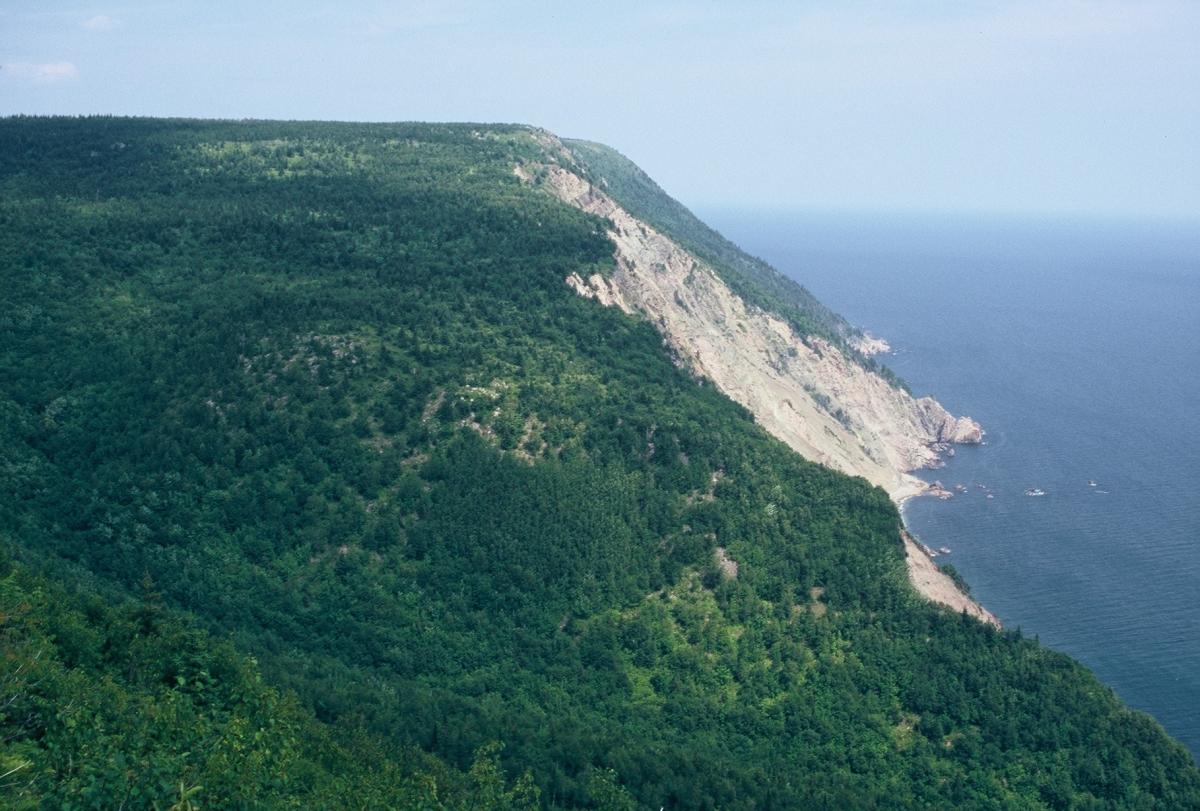 A diversity of flora and fauna, and historic rural settlements await. Visit North River and Cape Smokey Provincial Parks or Uisage Bahn Falls for some of our most beautiful and exhilarating hiking adventures.
Uisage Bahn Falls Trails
The Falls Trail
The Falls Trail is approximately 3.0 kilometres (1.8 miles) in length and requires about one hour to complete. The trail passes through a field then follows Falls Brook upstream through a mixed forest and then a hardwood forest. The deep stream valley narrows dramatically in the vicinity of Uisage Bahn Falls. At the falls, the sheer walls of the gorge tower 150 metres (500 feet) on either side.
The River Trail
The River Trail proceeds north from Falls Brook. It is about 3.0 kilometres (1.8 miles) in length (return) and requires about one hour to travel. Following along the banks of the North Branch Baddeck River, the trail winds through a climax sugar maple, yellow birch, beech forest at the foot of the river valley's steep slope. The original trail was developed with assistance from the Nova Scotia Forest Technicians Association. Recent improvements were undertaken by Stora Enso and the Nova Scotia Department of Natural Resources.
North River Provincial Park
This park can be accessed by leaving the Cabot Trail at North River Bridge and travelling approximately 4 kilometres (2.5 miles) north. The park provides access to the North River Wilderness Area which is well known to hikers and anglers alike. A small picnic area with basic amenities and parking can be found upon entering the park. Anglers have long used this spot to access the salmon-rich waters of the North River. Trails meander up and down the river passing through fascinating river-side habitats and forests. A well-established trail follows under the steep slopes of the river canyon to the base of North River Falls, which at over 32 metres (105 feet), is reputed to be the highest in the province. Other trails in the wilderness area will take you through mature deciduous forests, or near the river to old growth hemlock stands where some 250 year-old individuals stand.
Cape Smokey Provincial Park
10 km (6 mi.) | Moderately to Difficult Trail | Time: 4 hours
Located on the Cabot Trail, Cape Smokey offers dramatic coastal views. The 10 kilometre (6 mile) trail offers numerous look-offs along 275 metre (900 foot) granite cliffs. Bald eagles and a variety of hawk species can often be viewed soaring on the updrafts along the cliff line. Note: There are some steep, gravelly sections. While picnic facilities are provided at the start of the trail, there are no services along the way. Carrying drinking water is recommended